Rivergate Physical Therapy, P.C.
Bridging the gap to health through physical therapy
Our goal is that our clients experience an outstanding level of care and achieve optimal results in the shortest possible time, while aiming to exceed expectations with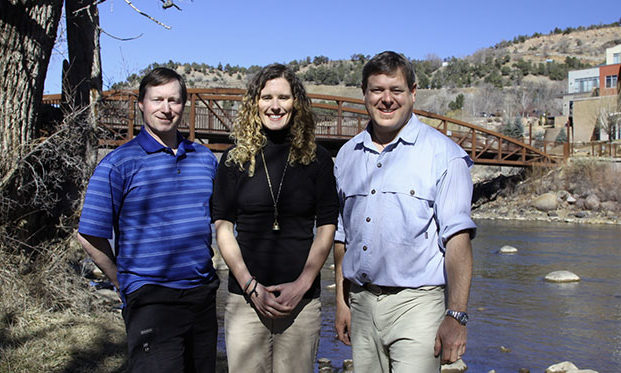 compassion, clinical excellence, and the utmost quality of care.
Our qualified physical therapists will work closely with you to regain your movement and flexibility. Whether it's a difficult knee, hip, ankle, neck, shoulder or spine injury, we want you to feel healthier so you can enjoy your active lifestyle.
Rivergate Physical Therapy, P.C. is dedicated to giving you the best care for your outpatient orthopedic rehabilitation.
Call us today at 970-259-2547 for a consultation.
Common Diagnoses We Treat
We offer traditional therapy programs as well as several specialized programs for all of your rehabilitation needs. Our physical therapist's will begin with an individual evaluation to assess your needs and goals so you can achieve optimal health.
Orthopedic and Sports Injuries
Back Pain & Sciatica
Neck Pain and Headaches
Shoulder Pain
Elbow, Wrist and Hand
Vertigo and Balance
Foot & Ankle Pain
Knee Pain
Hip Pain and Injury
Our Physical Therapists
We are dedicated to your healing and overall health.

Dan Cullum,
MSPT, EMT-P, NASM-PES
Dan Cullum is the owner of Rivergate Physical Therapy with a Masters of Science in Physical Therapy. He is an expert in outpatient orthopedics and is certified to do Trigger Point Dry Needling / Intra Muscular Stimulation and Spinal Manipulation.

Rick Cimaglia,
MPT
Rick has extensive experience in outpatient orthopedics, emphasizing manual therapy and exercise progression, and Astym® treatment, which is a non-invasive manual technique effective in the treatment of strains/sprains, repetitive motion injuries, post-surgical scarring, or other soft tissue dysfunctions.

Renni

Hogue, PTA
Renni (Ren-ie) earned her undergrad degree in Exercise Science from Fort Lewis College in Durango. Her learning continued and she proudly graduated in 2018 from the accredited San Juan College Physical Therapist Assistant Program in Farmington NM.
Renni now uses her education and experiences to help our clients bridge the gap to better health here at Rivergate Physical Therapy.
Jessica Fisher, PTA, LMT, RYT
Jessica graduated from Cortiva Institute of Massage Therapy in Seattle, WA in 2009. She continued her education by earning her associates degree as a physical therapist assistant from PIMA Institute and most recently by getting her 200hr yoga teaching certification in Dana Point, CA. She believes her background, alongside personal experiences, help bring an intuitive, well rounded and therapeutic approach to her treatment.

Satchel Baker, PTA
Satchel works as a Physical Therapy Assistant at the Rivergate Physical Therapy Office in the fitness center at the Dalton Ranch Golf Club in Durango, CO. He started his interest in healthcare by pursuing an Athletic Training degree at the University of New Mexico in Albuquerque. In 2020, Satchel earned an Associate of Applied Science degree in Physical Therapy Assistance from San Juan College in Farmington, NM.
Our Patient Success Stories
What our patients have to say…
"My husband and I have both gone to Rivergate Physical Therapy and have had great results.
We wouldn't consider going anywhere else. Great and caring people." – Leslie
Rivergate Physical Therapy has a beautiful clinic with state of the art equipment. The care I received was top notch. They helped me from the night of surgery, taught me how to walk again, and provided professional guidance throughout my rehab. The staff at Rivergate is extremely professional, outgoing, and friendly. It was an incredible experience. I thank everyone at Rivergate for an excellent recovery.
I am back to skiing and life!" – Juan
"This letter is to commend, not only Rick, but also the entire staff of Rivergate Physical Therapy for their professionalism, diligence, friendliness and helpfulness during my time with them for physical therapy following knee surgery.  They were attentive and concerned about my needs at all times
and addressed any issues that arose. – Annette
Contact Us
970-259-2547
575 Rivergate Lane, Suite 208
Durango, CO 81301